Three Exhibition Identity
Designed by James Brook for Dovecot Studios, Edinburgh, 2014
I was invited to create an identity for Dovecot Studios' 2014 Edinburgh Art Festival exhibition. The exhibition consisted of three parts:
Tumadh: Immersion
by the artists Dalziel + Scullion, as part of 'Generation: 25 Years of Contemporary Art in Scotland';
Dazzle
a selling show of contemporary jewellery; and
Current Exchanges
an exhibition about Dovecot and the Australian Tapestry Workshop. The exhibition ran from 1 August – 13 September.
The brief was to create an overall identity that linked all three exhibitions together. The identity needed to be attractive and vibrant, working across different media and at different scales, online and in print: invitations, leaflets, posters, and banners, and also on exhibition graphics and labels. 
For a more detailed look at the work I designed for this project, please click 
here
Printed by Allander, Edinburgh, on Zen Pure White 350gsm, with a double-hit UV spot varnish | 210 x 148mm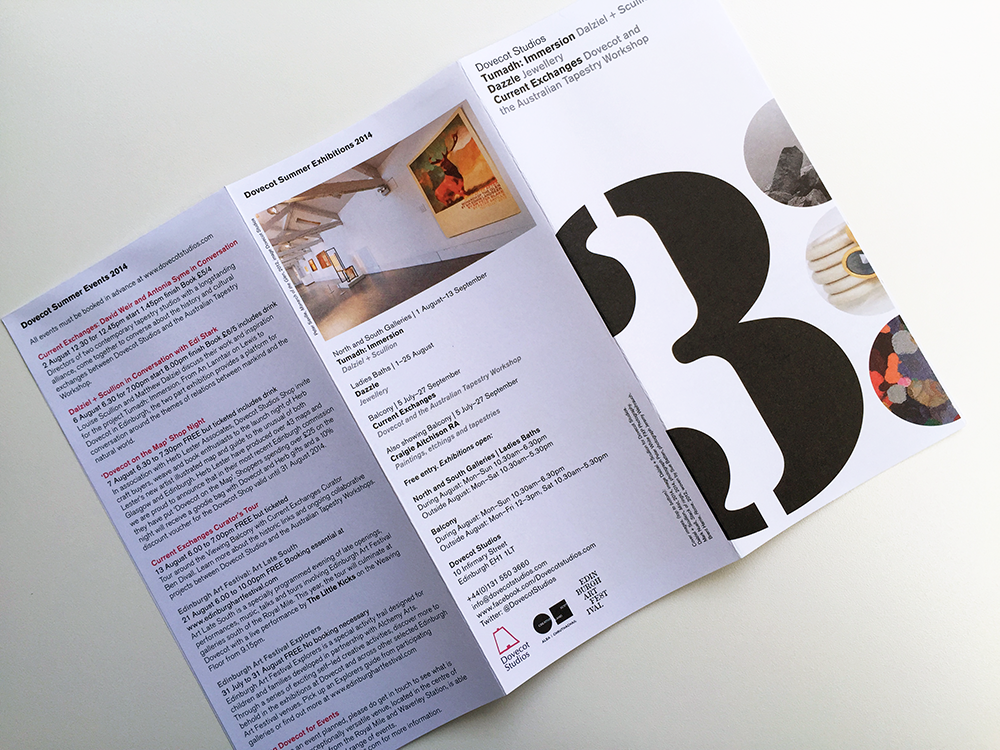 Printed by Allander, Edinburgh, on Revive 100 Offset 150gsm | 210 x 297mm, letter folded to 210 x 99mm, 12 pages
Three Map
An important part of the leaflet was the map that appeared on the reverse. Using an expanded plan of Dovecot as a starting point, I drew a revised version of the plan and overlaid it with numerals representing the location of the three exhibitions along with instructions that began with a playful 'START HERE'. Brief instructions on how to reach the different spaces in Dovecot were printed next to the numerals – for these instructions, I asked the information desk staff to email me the directions as the actual words they would give to visitors if they were asked the locations of the spaces.
Produced by McRobb in Edinburgh | Vinyl | 2800 x 750 mm
Four designs | Three sizes: A1, A3 and six sheet, 1200 x 1800 mm